Cotton Rope Baskets
Home Decor Wall Hanging Planter Woven Plant Basket Indoor
Model:BS-C018
Material:Cotton+Jute
Size:26
Plant Hangers Modern Storage Organizer Small Home Décor
Product description:

Hanging Planter
About the product
✔SAFE: Safe cotton material, soft and comfortable, completely safe around pets or your little ones!
✔ STURDY AND DURABLE: With 26 inches long, the basket could hold the plants beautifully!
✔ DECORATIVE:We're pride of how our product looks and how it can be useful to you!
✔ MAINTENABCE AND CLEANING:
A damp towel is good for daily clean.
Hand washing or machine washing, when wash by machine, better place it in a garment bag or pillow case. Air-dry is better or you can dryer on a delicate cycle.
✔ NOTE: These beautiful baskets are folded when packaged, potentially leaving some crease or fold marks.
It will turn back to its elegant shape quickly when you fill in some towels or blankets,or iron is a good idea.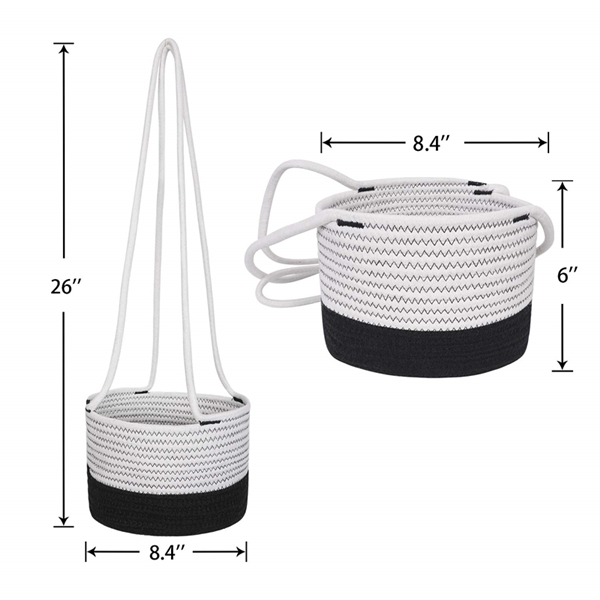 Best Ever Products, Best Ever Service
All products can be customized, welcome to inquiry us!
Categories
Latest News
Contact Us
Contact: Jessie
Phone: +86 17667516186
Tel: +86 17667516186
Add: No. 1068 Jinshui Road, Licang District, Qingdao, Shandong, China